We build more than boats.  
Shared goals:
How we construct your boat is important, but how you feel the day you take delivery is what drives us.  Building a custom boat is more than a transaction, it's a lifelong dream come true.  We realize this and feel the same way.  We are excited to build your craft and we strive to make it everything you imagined.  We work with our clients from design to delivery to be sure that the day you take possession is the proudest day of your boat owning career.
Build technique:
Having worked with steel, aluminum, wood and fiberglass to construct a hull, it has become clear that for a custom boat builder and their client, no other process works better than cold moulding.  Its materials and assembly process allow for the most creative shapes, with the lightest components without compromising strength.  A cold moulded boat will yield the strongest, lightest and most fuel efficient craft you will ever own.  In addition, they are the most beautiful boats you will ever see.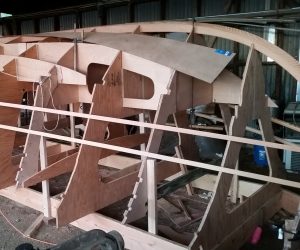 For years cold-molded wood construction has been used successfully in building small sailing dinghies, competitive rowing shells, cruising sailboats, rugged multi-hulls, and large powerboats. The technique involves laminating together layers of wood veneers or very thin planks to create a hull that is watertight, extremely strong, and lightweight. Blend these noteworthy features together with a relative ease of building, and you have a method of construction that is a very popular choice among the most accomplished custom yacht builders around.